Strobe Siren, w/LED Indicator - LK-99L
Strobe Siren, w/LED Indicator - LK-99L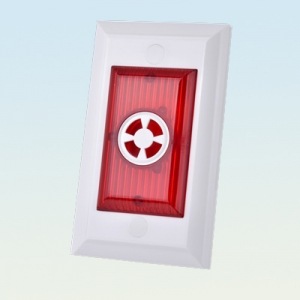 Item No. LK-99L
• Flush Mount type
• Operating Voltage:
• 10~16V (DC12V model)
• 18~28V (DC24V model)
• Current Consumption:
• 140mA (DC12V model)
• 90mA (DC24V model)
• Operating frequency: 2.4~3.7KHz
• Alarm output: 110 dB
• Strobe: 4 pcs super bright LED strobe
• Reverse polarity protection
• Size: 120L x 70W x 35D mm
• Weight: 76 g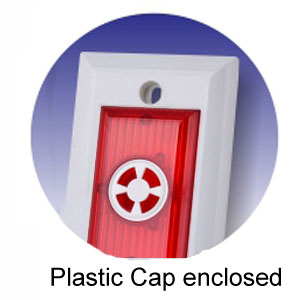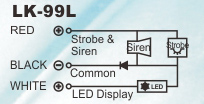 The Strobe Siren features a flush mount design, allowing for a seamless and discreet installation. With its compact size of 120L x 70W x 35D mm and lightweight construction of just 76g, it can be easily integrated into various locations without drawing unnecessary attention.
Operating within a wide voltage range, the Strobe Siren is compatible with different power systems. The DC12V model operates optimally within the 10 to 16V voltage range, while the DC24V model functions flawlessly within the 18 to 28V range. This flexibility ensures that the Strobe Siren can be easily incorporated into your existing security setup.
With its low current consumption, the Strobe Siren is energy-efficient without compromising on performance. The DC12V model consumes only 140mA, while the DC24V model requires just 90mA. This efficient power usage not only reduces operational costs but also ensures a reliable and long-lasting performance.
Operating at a frequency range of 2.4 to 3.7KHz, the Strobe Siren emits a powerful alarm output of 110 dB. This high-decibel sound serves as a strong deterrent and effectively alerts individuals to potential threats. In addition, the Strobe Siren features four super bright LED strobes that provide a visual warning signal, further enhancing its effectiveness in capturing attention and increasing situational awareness.