Siren & Strobe or Strobe only LK-87
Siren & Strobe or Strobe only LK-87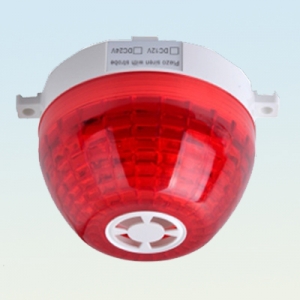 Item No. LK-87
• Operating Voltage:
• 10~16V (DC12V model)
• 18~28V (DC24V model)
• Current Consumption:
• 200mA (DC12V model)
• 170mA (DC24V model)
• Operating frequency: 2.4~3.7KHz
• Alarm output: 110 dB
• Strobe: 12 pcs super bright LED strobe
• Reverse polarity protection
• Size: 58ø x 60 mm
• Weight: 95 g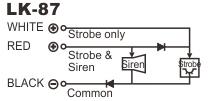 Operating within a wide voltage range, the LK-87 is compatible with different power systems. The DC12V model operates optimally within the 10 to 16V voltage range, while the DC24V model functions flawlessly within the 18 to 28V range. This flexibility ensures that the LK-87 can be easily integrated into your existing security infrastructure.
With a current consumption of 200mA for the DC12V model and 170mA for the DC24V model, the LK-87 strikes a balance between power efficiency and performance. This low current consumption ensures reliable operation while minimizing energy costs, making it an economical choice for your security system.
Operating at a frequency range of 2.4 to 3.7KHz, the LK-87 emits a powerful alarm output of 110 dB. This high-decibel sound serves as a strong deterrent and effectively alerts individuals to potential security breaches. In addition, the LK-87 features twelve super bright LED strobes, providing a visual warning signal that enhances situational awareness.
With a compact size of 58ø x 60 mm and a weight of only 95 g, the LK-87 can be easily installed in various locations without compromising the aesthetics of the surroundings. Its sleek design and versatile functionality make it a suitable choice for a wide range of applications.