Remote Control Switch
Remote Control Switch
Item No. LK-102RD
• Effective distance: more than 100M
• Frequency: 300~400MHz (RF)
• Receiver power source: DC11~15V
• Transmitter power source: DC12V battery (A23)
• Relay contact: 5A/120VAC (2-Relay)
• Dimension: Receiver: 114W x 64L x 33D mm
• Transmitter 37W x 70L x 15D mm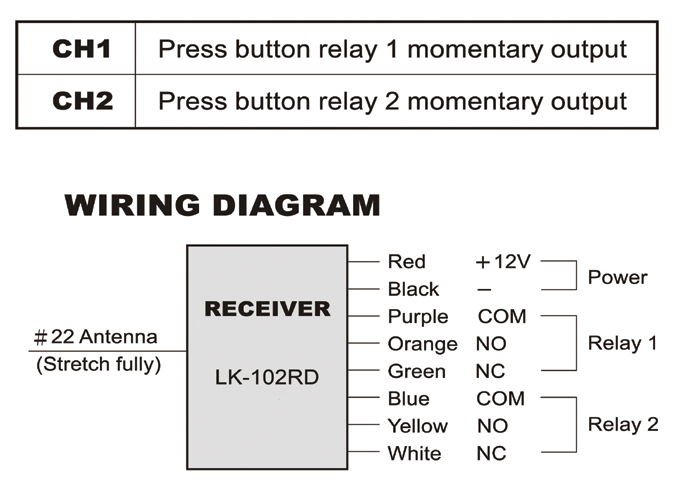 Operating on a frequency range of 300~400MHz (RF), our Remote Control Switch ensures reliable and stable communication between the transmitter and the receiver. This frequency range provides optimal signal transmission, allowing your commands to be accurately transmitted and executed. Say goodbye to the limitations of traditional wired switches and embrace the freedom of wireless control.
The receiver, powered by a DC11~15V power source, serves as the central hub for your wireless control system. It effectively receives and interprets signals from the transmitter, translating them into actions that control your devices. With a reliable power source, the receiver ensures uninterrupted and consistent performance.
The transmitter, powered by a DC12V battery (A23), offers the convenience of wireless control without the need for a continuous power supply. The battery provides long-lasting power, allowing you to operate your devices with ease and flexibility. Say goodbye to the hassle of cords and cables, and enjoy the simplicity of wireless control.
Equipped with a powerful relay contact rated at 5A/120VAC, our Remote Control Switch enables you to control multiple devices or functions simultaneously. With two relays, you have the flexibility to customize and automate your control applications according to your specific needs. Whether you want to control lights, motors, or other electrical appliances, our switch provides the capacity to handle a wide range of applications.