Remote Control Switch
Remote Control Switch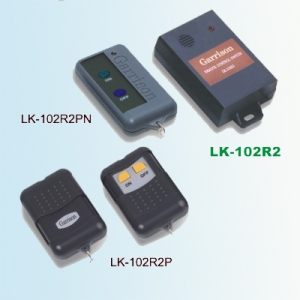 Item No. LK-102R2
• Effective distance: more than 100M
• Frequency: 300~400MHz (RF)
• Receiver power source: DC11~15V
• Transmitter power source: DC12V battery (A23)
• Relay contact: 5A/120VAC
• Dimension: Receiver: 48W x 87L x 23D mm
• Transmitter 37W x 62L x 15D mm (TX2 type)
• Transmitter 37W x 59L x 16D mm (TX4 type)
• Transmitter 37W x 70L x 15D mm (TX5 type)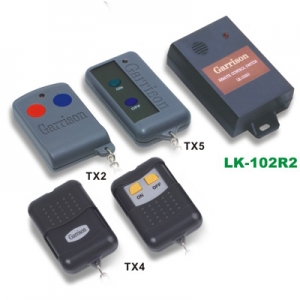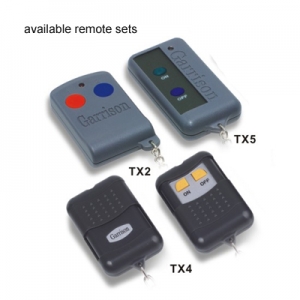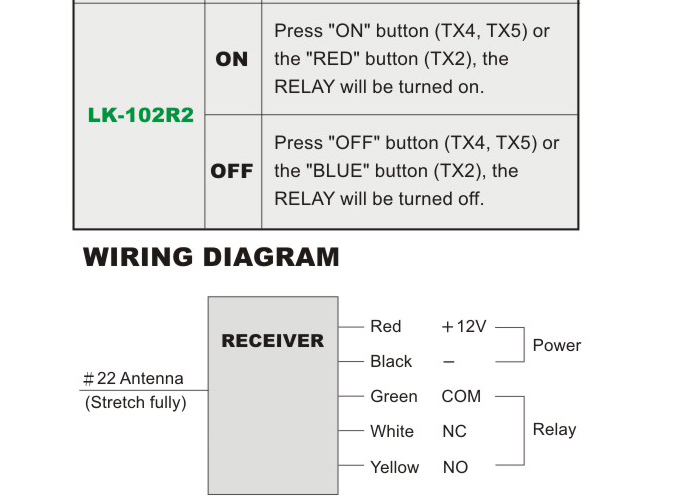 Experience the convenience and versatility of remote control with our advanced Remote Control Switch. Designed to enhance your control capabilities, this switch offers an impressive effective distance of over 100 meters, allowing you to operate your devices from a significant distance. With such a wide coverage area, you can effortlessly control your appliances, lighting, and more with ease and convenience.
Operating on a frequency range of 300~400MHz (RF), our Remote Control Switch ensures reliable and stable communication. This frequency range provides excellent signal transmission, allowing your commands to be accurately received and executed by the receiver. Say goodbye to tangled wires and cumbersome manual operations - with our Remote Control Switch, you have the freedom to control your devices wirelessly and effortlessly.
The receiver, powered by a DC11~15V power source, acts as the central hub for your remote control system. It receives signals from the transmitter and converts them into actions, allowing you to remotely control various devices in your home or workplace. The transmitter, powered by a DC12V battery (A23), provides the convenience of wireless control. The battery ensures long-lasting performance, allowing you to control your devices without the need for a continuous power source.