Garage Remote Controller
Garage Remote Controller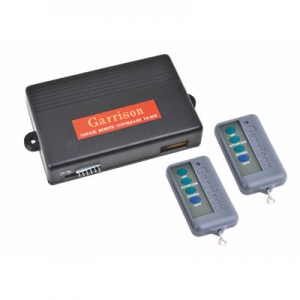 Item No. LK-101R
• Power source:
• Receiver AC110~220V
• Transmitter: DC12V(A23) battery (LK-101PN)
• Effective distance: 60m
• Frequency: 304MHz (RF)
• Code combination: 8-bit dip switch
• Relay contact: 10A/125VAC
• Buttons: UP, STOP/ON, DOWN, OFF
• Dimension:
• Receiver: 183W x 108L x 38D mm
• Transmitter: 37W x 70L x 15D mm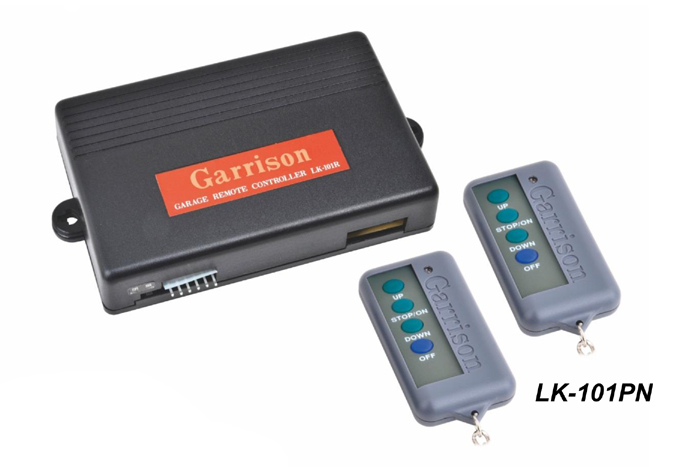 The Garage Remote Controller consists of a receiver and a transmitter, working in perfect harmony to deliver reliable and seamless performance. The receiver, powered by AC110~220V, serves as the central hub for receiving and interpreting signals from the transmitter. With a stable power source, the receiver ensures consistent and uninterrupted operation.
The transmitter, powered by a DC12V battery (A23), provides the convenience of wireless control without the need for a continuous power supply. This allows you to operate your garage door with ease and flexibility, even during power outages. The battery provides long-lasting power, ensuring reliable performance whenever you need it.
With an impressive effective distance of 60 meters, our Garage Remote Controller enables you to control your garage door from a significant distance. Whether you're inside your car or approaching your home, you can conveniently open or close your garage door without the need for manual operation. This feature enhances accessibility and streamlines your daily routine.
Operating on a frequency of 304MHz (RF), our Garage Remote Controller ensures reliable and secure communication between the receiver and the transmitter. The unique code combination, consisting of an 8-bit dip switch, adds an extra layer of security to prevent unauthorized access to your garage. Enjoy the peace of mind that comes with knowing your garage is protected.