Digital Keypad
Digital Keypad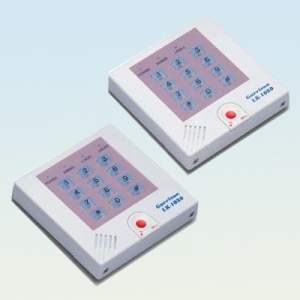 Model:LK-1020-1 / LK-1020-2
Item No. LK-1020-1 / LK-1020-2
• LK-1020-1 : One channel
• LK-1020-2 : Two channels
• Programmable code number in 1 to 14 figures
• Output indication by beeping & by LED lamp
• With Keypad back-light
• Tamper switch provided
• With doorbell push button
• Easy to install
• Two kinds/levels of code numbers available at the same time - - for LK-1020-2


Specifications:
Code Number: in 1 to 14 figures
- Power Supply: 10.5 ~ 16V DC
- Power Consumption:
- LK-1020-1 Quiescent - 30mA Relay on - 60mA
- LK-1020-2 Quiescent - 45mA Both relay on 80mA
- Output: Relay contact NO/NC (1A/24A DC or 0.5A/120V AC)
- Selectable alternate or momentary operation
- Momentary operate time 1 to 255 seconds programmable
- Tamper Switch: Provided
- Doorbell Switch: 0.5A/120VAC
- Operation Temperature: -10°C~55°C
- Wiring: Lead wiring (lead length: 22mm)
- Housing: Molded ABS resin
- Dimensions: 115L x 115W x 20D mm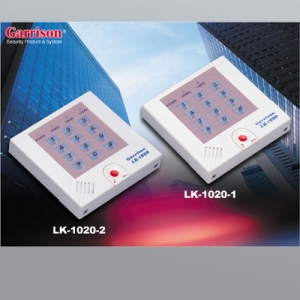 Available in two models, the LK-1020-1 and LK-1020-2, the Digital Keypad offers flexible options to suit different access control requirements. The LK-1020-1 model provides one channel, while the LK-1020-2 model offers two channels, allowing for expanded functionality and access control capabilities.
The Digital Keypad incorporates output indication through beeping and LED lamp, providing visual and auditory feedback during operation. The keypad is equipped with a backlit feature, enhancing visibility in low-light conditions and ensuring ease of use even in dimly lit environments. This keypad backlighting feature improves user experience and enables hassle-free entry, regardless of the lighting conditions.
In addition to access control functionality, the Digital Keypad also includes a doorbell push button. This feature allows visitors to announce their presence, making it convenient for both residents and guests. The doorbell switch operates at a capacity of 0.5A/120VAC, providing reliable and effective doorbell functionality.


In terms of specifications, the Digital Keypad operates on a power supply of 10.5 to 16V DC and consumes low power during quiescent and relay on modes. It features a relay contact with NO/NC options, offering flexibility in output configuration. The keypad allows for selectable alternate or momentary operation, with programmable timing options ranging from 1 to 255 seconds. It is designed for reliable operation in various temperature conditions, with a sturdy housing made of molded ABS resin.